Culver Karate Club Members attend Kumite Classic
Karate students of  Culver Karate Club in Connellsville competed and
fared well at the Kumite Classic in Monroeville on May 25th and 26th. The Kumite
Classic is a yearly national event held in the Monroeville Convention Center.
Attendees travel from all over the United States and Canada for this 2 day
Martial Arts and Fitness Extravaganza.  The Kumite Classic was celebrating its
13th year.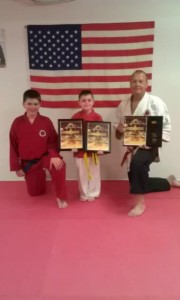 Competing this year was Payne Johnson who took 4th in Kata, and Fighting,  Christian Miller who took 2nd in Kata and Fighting  and Shihan Perry Culver who took 1st in Kata.
Culver Karate Club has been in Connellsville for over 24 years and teaches Karate, Ju Jitsu and Aerobic Kickboxing.
For information call 724-626-KICK.
Pic: Payne Johnson 4th Kara and Fighting, Shihan Culver 1st in Kata,
Christian Miller 2nd in Kata and Fighting.