Culver Karate at Pennsylvania Karate Championships
Culver Karate Club of Connellsville attended and fare quite well at the Pennsylvania Karate Championships.  The PA Karate Championship is the Main event of the year for the Pennsylvania Karate Rating Association and is also a highly rated tournament with the PKC (Professional Karate Assoc.) and the Kumite International Assoc.  There were hundreds of competitors coming from as far away as Chicago, West Virginia, New York and Canada. Culver Karate's attended fared as follows: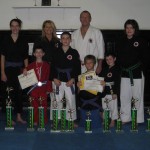 Pictured, Front Row l to r: AJ Dominick – 2nd in Fighting and Kata and 6th in Weapons, Andrew Montilla – 1st in  Fighting, 2nd in Weapons and 3rd in Kata, Keaton Detwiler – Received Recognition as the 2011 PKRA Divisional State Champion,  also received trophies for placing 3rd in Fighting, 4th in Kata and 6th in Weapons, Christian Miller – 2nd in Fighting and 3rd in Kata.
Back Row l to r: Cicily Culver 1st place in Fighting,  Sensei Lorrie Culver,  Shihan Perry Culver, Amber Boggs 6th in Fighting and 6th in Kata